What's the Baltimore Hundred
& Where Is Horntown?
Our family's American roots cover the lower Delmarva Peninsula. The Gray family is from the Baltimore Hundred of Sussex County, Delaware. The Welburns hailed from further south in Horntown, Accomack County, Virginia until Grandfather George Welburn migrated north into Worcester County, Maryland and finally settled in Sussex County, Delaware.
1868 Map of the Baltimore Hundred
The Baltimore Hundred is the most southeastern section of Sussex County and the state of Delaware. It is directly south of the Indian River Bay, directly north Worcester County, Maryland, and immediately west of the Atlantic Ocean. A "Hundred" is an old colonial term applied to a sectioned area of the county in which 100 farms should fit.
The 1868 Map from Beers Atlas actually marked the location of Baltimore Hundred landowners, including our patriarch George Welburn. It has been color altered to distinguish some creeks from roads and George Welburn's name is marked in red.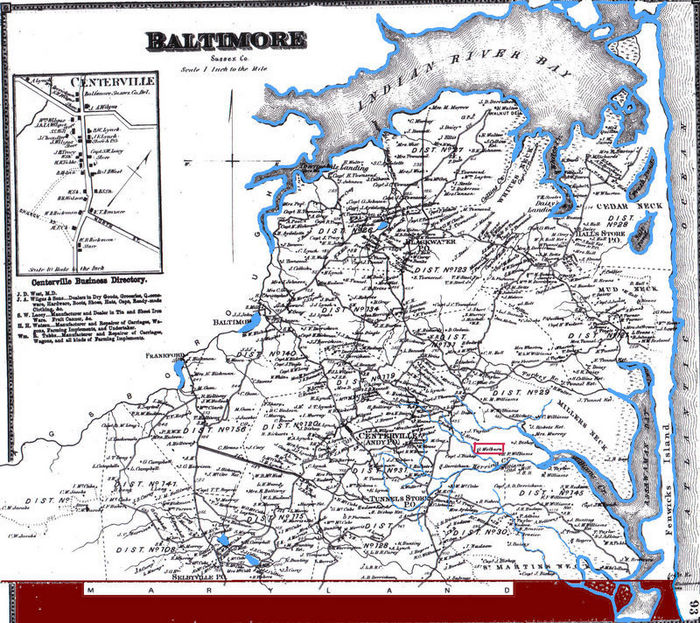 The Drummond Welbourne House
Horntown, Virginia is in the northeast section of Accomack County, Virginia and is near the Maryland state line.
Rev. Drummond Welbourne, a Methodist minister, tavern owner, mill operator, slaveholder, and town postmaster, resided in Horntown. His public life was a stark contradiction to early Methodist beliefs which encouraged temperance and emanicipation. As a Methodist minister he was expected to live an impoverished life, but his wants outweighed his means. After beginning construction on one of the nicest houses in town, Drummond Welbourne went into debt.
Our 4th-great-grandmother Hannah Welbourne (mother of George), was one of several slaves owned by Rev. Drummond Welbourne. Drummond & Hannah are biologically related. Some have concluded that they are father and daughter. However they are related to each other, Drummond cared enough for Hannah to free her on June 30, 1818 before his creditors could take his assets.
Despite being free and against Virginia law, Hannah remained on the Welbourne property when Drummond wrote his will on August 8, 1818. She was the only person to benefit from the will which merely confirmed her emancipation and assigned executors to his indebted estate. His pregnant wife and mother of his legitimate children, Mary "Polly" Henderson, was not even mentioned in the will. 3 days later, Drummond Welbourne committed suicide by hanging in his unfinished house (according to local lore). Below is a rare photo of the Drummond Welbourne House well before its demise in the 1950's.
(c) 2007 - 2014 Kimberly Chase-Longus